Pen Testing and Red Team Exercises
A methodical assessment of your security controls to identify weaknesses and prioritize your security plan.
We can help you put your security to the test.
Unearth and combat potential vulnerabilities by proactively seeking them out. With EITS' Red Team services, we:
Simulate real-world attacks by exploiting vulnerabilities in a controlled setting.
Provide actionable remediation recommendations to boost your security.
Why choose EITS?
Experience: Our Red Team integrates insights from actual incident response scenarios, coupled with our extensive testing expertise.
Attacker Emulation: We don't just test; we mirror attacker strategies and thinking to provide a genuine evaluation of your defenses.
Collaboration: Together, we'll design specific use cases and engage in goal-driven tests. The objective? To vividly showcase potential breach implications.
Empowerment: Understand and reinforce any security lapses. Walk away with the confidence that your security stance is fortified against real-world threats.
Elevate your cybersecurity game with EITS.
EITS' Penetration Testing Process includes:
Download for more information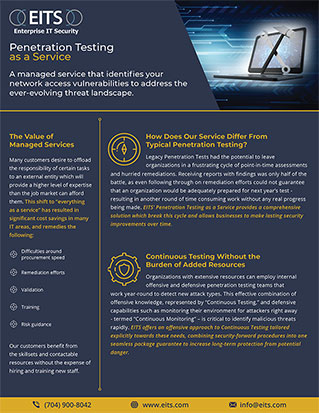 Continual Penetration Testing is Required to Achieve Sustainable Security.
EITS' Penetration Testing as a Service provides a comprehensive solution that allows businesses to make lasting security improvements over time.
EITS recently finished a pen test for us. They were awesome, the team was very easy to work with. They gave us all the feedback we needed and were very patient working with us through the volume of updates and requests we needed given the amount of focus on this test within our organization. From kick off, through scheduling, it was very clear how the engagement would work and the availability of the team was great.